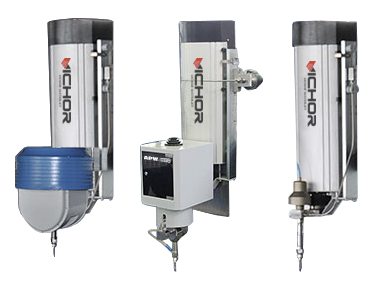 For stainless steel, metal, copper, titanium and similar hard materials that cannot be machined with water only, VICHOR Waterjet abrasive cutting heads provide the most advanced alignment technology for precision cutting with minimal kerf while holding tolerances up to +/-.003″/.076 mm.
The high velocity waterjet creates a vacuum which pulls the abrasive into a mixing chamber, producing a coherent, extremely energetic abrasive jet stream. This process is ideal for cutting steel up to 12″/30 cm, cutting intricate patterns in sheet metals, titanium, composites, decorative stone, synthetic ceramics, glass, and much more!
VICHOR Waterjet water only cutting heads are designed for better performance and increased production for food cutting, soft materials cutting, robotics, slitting & extreme pressures. VICHOR offers customized waterjet tables designed with water only cutting nozzles, for food cutting to cut lettuce, petit fours, cakes, chicken, meat, ice cream, frozen fish, granola bars, frozen food, as well waterjet machines to slit paper.
At VICHOR, we give shape to our customers' vision with the world's leading industrial cutting solutions. Every day we help individuals and companies around the world envision better, smarter, and more efficient ways to produce the products that shape our world. So whether you're cutting precision parts in North America, constructing a pipeline in Norway, fabricating agricultural machinery in Brazil, cutting stone in Italy, gouging out welds in the mines of South Africa, or building a skyscraper in China, you can count on VICHOR to help you not just cut parts but achieve your vision.