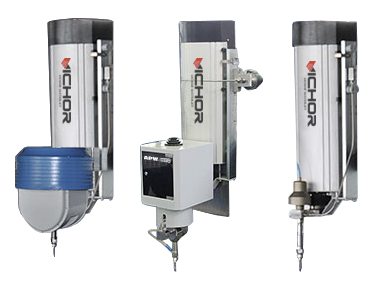 For stainless steel, metal, copper, titanium and similar hard materials that cannot be machined with water only, VICHOR Waterjet abrasive cutting heads provide the most advanced alignment technology for precision cutting with minimal kerf while holding tolerances up to +/-.003″/.076 mm.
The high velocity waterjet creates a vacuum which pulls the abrasive into a mixing chamber, producing a coherent, extremely energetic abrasive jet stream. This process is ideal for cutting steel up to 12″/30 cm, cutting intricate patterns in sheet metals, titanium, composites, decorative stone, synthetic ceramics, glass, and much more!
VICHOR Waterjet water only cutting heads are designed for better performance and increased production for food cutting, soft materials cutting, robotics, slitting & extreme pressures. VICHOR offers customized waterjet tables designed with water only cutting nozzles, for food cutting to cut lettuce, petit fours, cakes, chicken, meat, ice cream, frozen fish, granola bars, frozen food, as well waterjet machines to slit paper.
VICHOR Waterjet's commitment to research and development ensures that its products are at the forefront of waterjet technology, with advanced features and capabilities that meet the needs of various industries. With a focus on precision and efficiency, VICHOR Waterjet's cutting equipment is known for its superior performance and competitive pricing. In addition to its impressive product line, VICHOR Waterjet offers excellent customer support and after-sales services to ensure customer satisfaction.
Our waterjet cutting machines are used in various industries, including aerospace, automotive, and construction. Our team is committed to providing customized solutions that meet each customer's unique needs, and we have a strong track record of delivering high-quality products that exceed expectations. With a focus on innovation, quality, and customer satisfaction, VICHOR Waterjet is proud to lead China's waterjet cutting industry.
With over 20 years of experience in the waterjet cutting industry, VICHOR Waterjet has established itself as a trusted and reliable partner for businesses worldwide. Our advanced technology, superior performance, and excellent customer support make us the top choice for companies looking to improve their cutting processes. Contact us today to learn more about our products and services and how we can help your business succeed.