Italy ECS CNC 905s System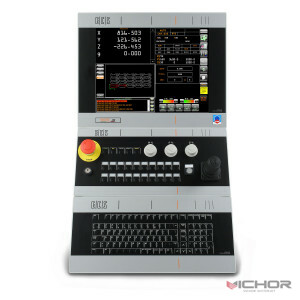 THE EVOLVED NUMERICAL CONTROL FOR VICHOR WATERJET CUTTING MACHINES
The Italy ECS CNC 905s System is ideal to waterjet cutting machine application and it is complete with a small but powerful CAM, called Shape CAM, that allows to choose the basic profile opeating and setting the start and stop points beyond that their relative parameters.
That CAM, in addition, allows to apply a series of attributes to the selected profile, with a graphic simulation of the programmed operation, offering the possibility to automatically select the preset operation or to call it back later, and to immediately carry it out.
To this it joins other distinctive elements as: the interface personalization, the retrace mode, the real time design with zoom, the automatic restore after work stoppage, the graphic research in order to set the cutting start point, DRF modus, G62 function to guarantee the programmed feed, and finally the autmatic tool change management.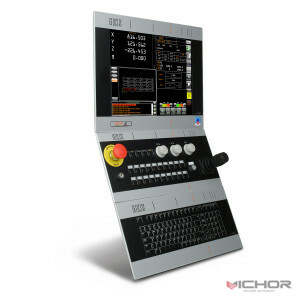 SOFTWARE FEATURES
Interface Personalization
Possibility to set-up a generic image on the main page (for instance the builder's logo), to define the PLC keys menu, and to control from the PLC the displaying of totally configurable and interactive windows
Retrace Mode
Designed to use in order to reposition the cutting head at any point on the profile which has already been processed
Real Time Graphics
The program is provided with a manual and/or an automatic zoom to visualize the plate contour
Automatic restore after work stoppage
After repositioning on the profile, there is the option to return to tangential or linear mode, with activation of cutting on or external to the profile
Graphics Research
The set-up of the cutting start point
Procedures
Acquisition and automatic management of plate misalignment
Flexible Management of the Production
Possibility to suspend the current operation, to begin another and, at the end, to restart the first one automatically
DRF Modus
This modus allows the real time translation of the profile origin
Height Control Management
Height control, particularly for plasma cutting.
There is one simpliefied version and one version where the CNC directly interfaces the plasma generator, piloting a generic drive with analogical interface +/- 10 V or digital link
G62 Function
It guarantees the programmed feed and conseguently the torch height control, also during the execution of small arcs
Milling / Drilling Unit Management
Automatic Tool Change Management
FEATURES
• Up to 16 axes interpolated
• Monitor 15" LCD – Integrated Touch Screen
• Peripheral Interface: EtherCAT to manage BDF Digital Link, Mechatrolink® 2 and analogic drives
• Up to 2048 I/O with EtherCAT
• Machine panel with joystick (Optional)
• Qwerty keyboard (Optional)