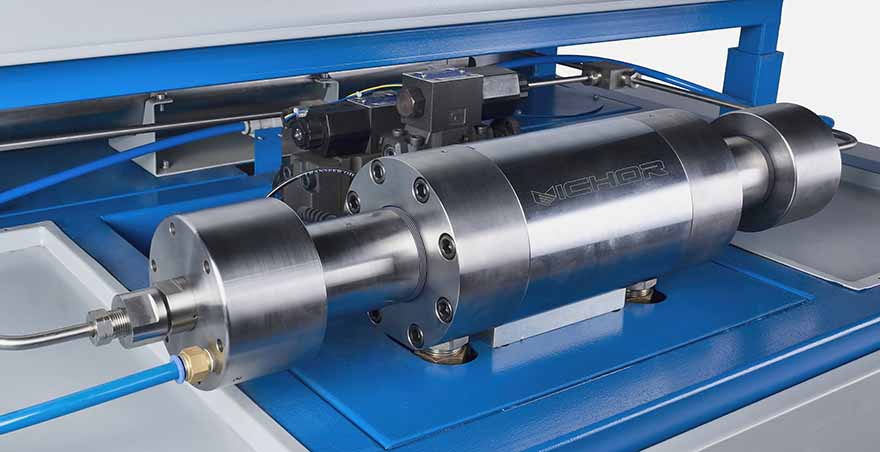 Waterjet technology produces excellent fine-feature cut quality with low edge angularity, no heat-affected zone, a narrow kerf, and virtually dross-free cutting. It also offers the ability to process a variety of materials and a thickness range capability unmatched by other cutting technologies.
VICHOR WCM-K55 waterjet pumps were last manufactured in July 2014 and are no longer available for sale from VICHOR. VICHOR Technical Service department still supports this model.
System Information
Nominal Power: 50hp (37kW)
Max. Pressure Range: 55,000psi (3,792bar)
Max. Water Flow Rate @55,000psi(3,792bar): 1.0gpm (3.79lpm)
Max. Single Orifice Diameter: 0.014" (0.356mm)
Power Supply: 3-Phase, 380VAC, 50Hz
Max. Noise Level: 75dB(A)
Ambient Operating Temperature: Min.: 40˚F (5˚C); Max.: 104˚F (40˚C)
Ambient Storage Temperature: Min.: 35.6˚F (2˚C); Max.: 104˚F (40˚C)
Length: 78.98" (2,006mm)
Width: 35.98" (914mm)
Height: 46.58" (1,183mm)
Weight: 1,799lb (816kg)
Cutting Water
Min. Inlet Cutting Water Flow: 4.0gpm (15.1lpm)
Min. Inlet Cutting Water Pressure: 35psi (2.4bar) flowing
Accumulator Volume: 0.26gal (1.0L)
Hydraulic System
Max. Hydraulic Pressure: 2,750psi (190bar)
Hydraulic Reservoir Capacity: 40gal (151L)
Cooling System
Cooling Water Consumption at 75˚F (24˚C) Water Temp.(Max.): 3.0gpm (11.4lpm)
Min. Cooling Water Pressure: 30psi (2.1bar)
The Global Leader in Waterjet Cutting Solutions. Top One in China's Waterjet Cutting Market.
At VICHOR, we give shape to our customers' vision with the world's leading industrial cutting solutions. Every day we help individuals and companies around the world envision better, smarter, and more efficient ways to produce the products that shape our world. So whether you're cutting precision parts in North America, constructing a pipeline in Norway, fabricating agricultural machinery in Brazil, cutting stone in Italy, gouging out welds in the mines of South Africa, or building a skyscraper in China, you can count on VICHOR to help you not just cut parts but achieve your vision.