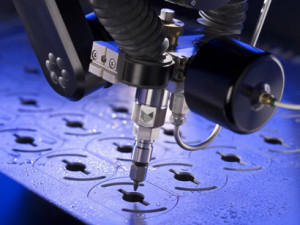 While using high-pressure water for erosion dates back as far as the mid-1800s with hydraulic mining, it was not until the 1930s that narrow jets of water started to appear as an industrial cutting device. In 1933, the Paper Patents Company in Wisconsin developed a paper metering, cutting, and reeling machine that used a diagonally moving waterjet nozzle to cut a horizontally moving sheet of continuous paper. These early applications were at a low pressure and restricted to soft materials like paper.
Water jet technology evolved in the post-war era as researchers around the world searched for new methods of efficient cutting systems. In 1956, Carl Johnson of Durox International in Luxembourg developed a method for cutting plastic shapes using a thin stream high-pressure water jet, but those materials, like paper, were soft materials. In 1958, Billie Schwacha of North American Aviation developed a system using ultra-high-pressure liquid to cut hard materials. This system used a 100,000 psi (690 MPa) pump to deliver a hypersonic liquid jet that could cut high strength alloys such as PH15-7-MO stainless steel. Used as a honeycomb laminate on the Mach 3 North American XB-70 Valkyrie, this cutting method resulted in delaminating at high speed, requiring changes to the manufacturing process.
While not effective for the XB-70 project, the concept was valid and further research continued to evolve waterjet cutting. In 1962, Philip Rice of Union Carbide explored using a pulsing water jet at up to 50,000 psi (345 MPa) to cut metals, stone, and other materials. Research by S.J. Leach and G.L. Walker in the mid-1960s expanded on traditional coal water jet cutting to determine ideal nozzle shape for high-pressure waterjet cutting of stone, and Norman Franz in the late 1960s focused on water jet cutting of soft materials by dissolving long chain polymers in the water to improve the cohesiveness of the jet stream. In the early 1970s, the desire to improve the durability of the water jet nozzle led Ray Chadwick, Michael Kurko, and Joseph Corriveau of the Bendix Corporation to come up with the idea of using corundum crystal to form a waterjet orifice, while Norman Franz expanded on this and created a waterjet nozzle with an orifice as small as 0.002 inches (0.05 mm) that operated at pressures up to 70,000 psi (483 MPa). John Olsen, along with George Hurlburt and Louis Kapcsandy at Flow Research (later Flow Industries), further improved the commercial potential of the waterjet by showing that treating the water beforehand could increase the operational life of the nozzle.
VICHOR waterjet is the top one in China's waterjet cutting market.
Related articles
Water jet Cutter Find out knowledge about water jet cutter from VICHOR water jet.
Water jet Machine Size Find out knowledge about water jet machine size from VICHOR water jet.