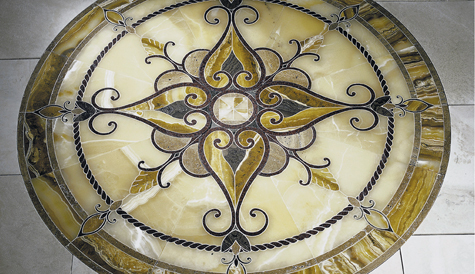 Compared to traditional cutting tools and CNC machines, easy-to-use VICHOR Waterjet dramatically reduces work-in-process time for stone and tile fabricators.
Our abrasive waterjet cuts any stone or tile, without a change in tooling. It can drill, or 'pierce', its own starter hole. It can pierce holes in most materials without any special consideration.
VICHOR Waterjet is the top China waterjet manufacturer that offers many choices of waterjet systems from 3 Axis, 4 Axis, 5 Axis, dual cutting heads with a gantry or cantilever waterjet table.
Whether you're cutting granite, marble, slate, limestone, soapstone, travertine, engineered stone or any other material for floors and counters; porcelain or ceramic tile for inlays or medallions; or glass and metal for artistic accents and signage, VICHOR Waterjet's unique ability to cut very intricate designs at high speed without breakage frees your imagination and expands your business.
Advantages of Stone Water Jet Cutting
• Eliminates most secondary finishing… no rough edges
• Little or no waste of raw material
• No toxic fumes or dust (in contrast to saws & blades)
• No blade or saw sharpening
• Ability to cut the most intricate stone, tile and marble designs
• Ideal for cutting up to 12" (30 cm) of materials depending on density of product
• Eliminates the risk of discoloring or deformation
• Flexibility of Saw and Waterjet combination systems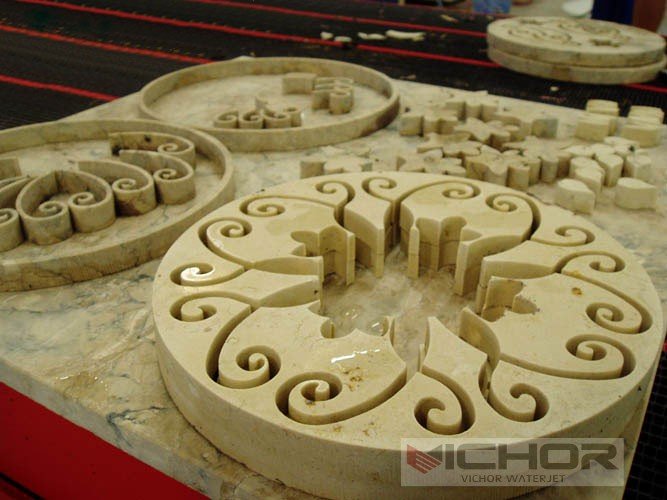 This was the first time I'd been involved with a project that used a waterjet, and it was unbelievable. The materials look like they were created to fit together naturally. I don't know how VICHOR waterjet did this. It was such an incredible work!
VICHOR waterjet gives me the ability to be creative and achieve a variety of looks. I love the flexibility of VICHOR waterjet and can't imagine working without it!
VICHOR Waterjet is your best choice for stone water jet cutting!