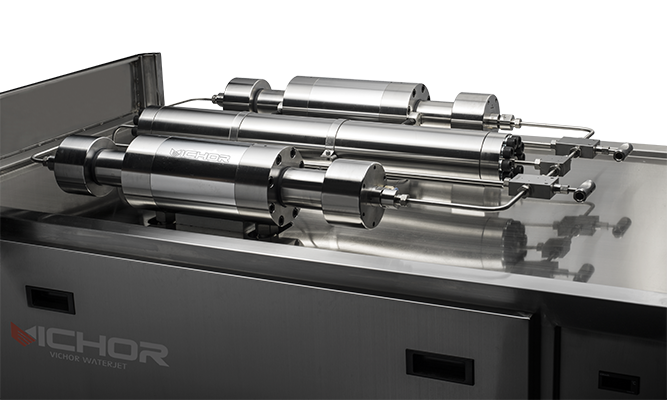 VICHOR Waterjet introduces the Next Generation of waterjet pumps, a 60,000 psi/4,137 bar, 100 HP pump, powered by VICHOR high-pressure waterjet dual-intensifiers.
The VICHOR WCM-P60IIx2 pump is the BEST solution for manufacturers requiring maximum performance and exceptional value.
Increased Production
With waterjet pressure up to 60,000 psi/4,137 bar, the advanced VICHOR WCM-P60IIx2 pump delivers the manufacturer twice the power, by cutting products in half the time over conventional 60,000 psi – 50 HP waterjet systems.
Faster, Easier Maintenance
Intelligent design simplifies and speeds the access to seals and wear parts.
Fastest Cutting in the Waterjet Industry
Continuous production of 60,000 psi/4,137 bar with dual intensifiers to virtually eliminate pressure drop and enables twice the cutting power over lower pressure systems. Perfect for cutting thick steel, titanium, aluminum, brass and much more.
Essential Features
• 60,000 psi at 100 HP with dual-intensifiers.
• Dual Intensifiers for Maximum UHP, Maximum HP and Maximum Productivity.
• Downwards compatible to 30,000 psi operational pressure when less waterjet force is needed to complete the project.
• Sophisticated software includes remote access and ability to network multiple pumps.
• Double front doors for easy access and maintenance with padded insulation for sound reduction.
• Multiple language controls.
• Ceramic plungers for maximum reliability.
System Information
Nominal Power: 100hp (75kW)
Max. Pressure Range: 60,000psi (4,137bar)
Max. Water Flow Rate @55,000psi(3,792bar): 1.90gpm (7.20lpm)
Max. Single Orifice Diameter: 0.018" (0.45mm)
Power Supply: 3-Phase, 380VAC, 50Hz
Max. Noise Level: 75dB(A)
Ambient Operating Temperature: Min.: 40˚F (5˚C); Max.: 104˚F (40˚C)
Ambient Storage Temperature: Min.: 35.6˚F (2˚C); Max.: 104˚F (40˚C)
Length: 82.68" (2,100mm)
Width: 50.00" (1,270mm)
Height: 55.91" (1,420mm)
Weight: 3,748lb (1,700kg)
Cutting Water
Min. Inlet Cutting Water Flow: 4.0gpm (15.1lpm)
Min. Inlet Cutting Water Pressure: 35psi (2.4bar) flowing
Accumulator Volume: 0.26gal (1.0L)
Hydraulic System
Max. Hydraulic Pressure: 2,900psi (200bar)
Hydraulic Reservoir Capacity: 53gal (200L)
Cooling System
Cooling Water Consumption at 75˚F (24˚C) Water Temp.(Max.): 3.0gpm (11.4lpm)
Min. Cooling Water Pressure: 43.5psi (3.0bar)